SKI TOURING WITH SAFETY AND COMFORT
SAFE AND EASY – FROM THE TIME YOU STEP IN TO THE VERY LAST TURN
With Evo it's not only much easier to step in, it's also more comfortable and safer to ascend. Dynamic and safe skiing included, of course. User-friendly innovations, such as the solid stop for easy step-in, lateral release at the toe, practical handling and the stable, non-turning heel unit make every ski tour perfect.
Swiss made
All parts are manufactured in Switzerland and assembled into high-quality products in Reichenbach. After the assembly, every binding undergoes a meticulous quality control process, including a functional test.
Front lateral release
When a skier falls, the lateral forces will act in front where the ski is controlled. The Fritschi Vipec and Tecton are the only pin bindings with lateral release via the front unit similar to Alpine bindings. The boot is freed immediately upon release.
In conventional pin bindings, the boot is released in the back via a rotating heel unit. The boot is not released unless the clamping mechanism in the front is pushed open.
POWER TRANSMISSION MADE EASY
PRECISE AND SAFE CONTROL OF SKIS
Today's touring skis and boots allow a considerably more dynamic style of skiing and the Vipec Evo is the right binding for this. Like alpine bindings, it is equipped with a solid non-turning heel and ensures in the back, where the highest forces are acting in downhill skiing, an optimal traction.
Use of all functions with a ski pole
Switching from downhill to uphill mode and vice versa is very simple without having to step out of the binding. The three ergonomically synchronized walk mode levels can also be changed in no time with a pole.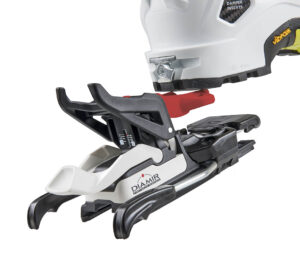 Available now for purchase from your local Fritschi NZ Dealer
When purchased locally the price includes mounting, adjustment to your ski, and local parts & warranty support.

I consent to having this website store my submitted information so they can respond to my inquiry
Privacy Policy